October 16th, 2008 by Kristi Stephens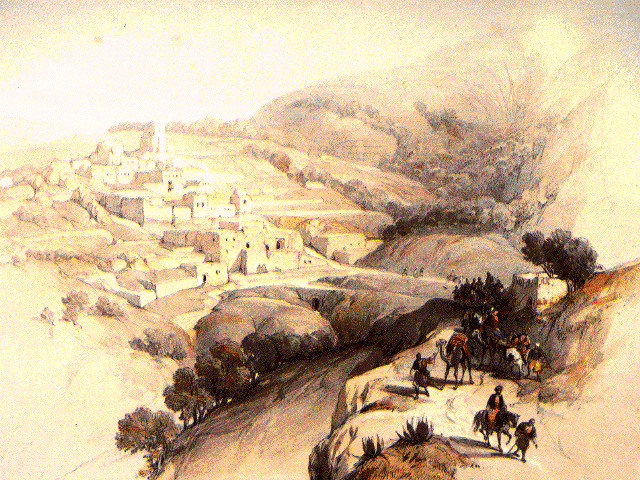 I ended our last post with a question: Has Deuteronomy 30:1-6 happened yet?
Now it shall come to pass, when all these things come upon you, the blessing and the curse which I have set before you,
and you call them to mind among all the nations where the Lord your God drives you,
and you return to the Lord your God and obey His voice,
according to all that I command you today, you and your children, with all your heart and with all your soul,
that the Lord your God will bring you back from captivity, and have compassion on you, and gather you again from all the nations where the Lord your God has scattered you.
If any of you are driven out to the farthest parts under heaven, from there the Lord your God will gather you, and from there He will bring you.
Then the Lord your God will bring you to the land which your fathers possessed, and you shall possess it. He will prosper you and multiply you more than your fathers.
And the Lord your God will circumcise your heart and the heart of your descendants, to love the Lord your God with all your heart and with all your soul, that you may live.
Jeremiah 31 (among other places) also refers to this:

Behold, the days are coming, says the Lord, when I will make a new
covenant with the house of Israel and with the house of Judah – not according to the covenant that I made with their fathers in the day that I took them by the hand to lead them out of the land of Egypt, My covenant which they broke, though I was a husband to them, says the Lord.
But this is the covenant that I will make with the house of Israel after those days, says the Lord: I will put My law in their minds, and write it on their hearts; and I will be their God, and they shall be My people.
No more shall every man teach his neighbor, and every man his brother, saying, 'Know the Lord,' for they all shall know Me, from the least of them to the greatest of them, says the Lord. For I will forgive their iniquity, and their sin I will remember no more." (Jer.31:31-34)
Although Israel did experience exile and a partial return to the land later in the Old Testament, was this prophecy ever fully fulfilled? What is this referring to?
Let me just say… no, it hasn't happened… YET.
One day, Christ will rule, Israel will be restored (not only politically or financially – spiritually restored to Yahweh). And the "someday" is getting closer and closer to us!
[I am definitely in agreement with a pre-mil, pre-trib view of the end times. I will not rehash everything here - I am no expert, and there are many resources from people much more qualified than me to detail prophecy. But, let me give you a quick crash course if this is a new thought to you.]
According to Bible prophecy largely found in the books of Revelation, Daniel, and sprinkled throughout other books, this is the general order of events we expect to happen: [I am referring to Charles C. Ryrie's "Basic Theology" - again, I am not an expert, but I believe this to be the most Biblically supported position on prophecy.]
*The Church (all people who have placed their trust for salvation in Jesus Christ alone) will be "raptured" or taken instantly to heaven without experiencing death- ie: we will all disappear without a trace.
*7 years of tribulation, or great difficulty on the earth will follow. The event signaling the beginning of the tribulation will be the signing of a covenant, or treaty, between Israel and the leader of Europe (the "anti-Christ"). This covenant will provide protection from the West for Israel and allow the temple to be rebuilt and the sacrificial system and other temple worship to be re-instated.
*Many judgements will be poured out on the earth during the Great Tribulation including great war and bloodshed, famine, death from plague and disease, a great earthquake, and the sun being darkened.
*During this time, it appears that Russia will be forming allies with Persia (modern Iran), Sudan, Libya, and Turkey. They will together attack Israel, and will seek to wipe them out. God will intervene and these forces will be completely destroyed.
*After the destruction of Russia ("Gog and Magog"), the antichrist will gain more power, demand that the whole world worship him, break the treaty with Israel, and control international commerce by forcing everyone to receive a mark on their forehead or hand with his name or his number (this is where the reference to "666″ comes into play in Scripture).
*More supernatural judgements will continue: (among other things) hail, fire, and blood from the skies, part of the sea being turned to blood, pollution of fresh water, changes in the sun, moon, and stars, and demonic attacks on mankind.
*At the end of the tribulation, at the battle of Armageddon, Jesus Christ will return to earth to conquer and reign. The armies of heaven will conquer the armies of the earth, and the 1,000 year earthly reign of Christ will begin. This is the time when those promises in Deuteronomy 30 and Jeremiah 31 will be fully fulfilled!
Like I said, that was a very brief overview – many people have read the "Left Behind" series by Tim Lahaye and Jerry Jenkins, which does a good job of theorizing what this might be like.
I was hesitant to write anything about end times, because it is a debated topic even within Christian circles. We get caught up on when the rapture will happen, who all the various nations are, etc. But, here's the gist: Jesus is coming back, and He told us to watch! That is why this blog is called "Run the earth, watch the sky" – I am striving to live this life to the fullest that God may be glorified, but I'm keeping an eye on the sky – someday He's coming back, and it very likely will be soon!
Did you catch that part above about Russia (that is where the descendants of "Gog and Magog" mentioned in Revelation settled) forming alliances with Persia, aka: Iran? How about international coalitions in Europe, leading to international control of commerce? Did you know that Orthodox Jews are READY to rebuild the temple in Jerusalem (check out the Temple Institute website)? All they need is access to the temple mount! (enter the anti-christ and his covenant). Current events seem to be accelerating toward the scenarios and political climate that are foretold in the Bible.
Even if you disagree with my eschatological view, please understand: Jesus IS going to come back, not as a suffering servant, but as the King of all kings and the Lord of all lords. Every knee will bow, and every tongue will confess that He is Lord. All of the promises to Israel will be fulfilled!
My husband and I realized a few years ago that we had similar experiences as children. We had both grown up in Baptist churches, and had taken in a steady diet of RBP flanelgraph images. Many of you know what I'm talking about. ;) We both remember times as kids when we looked at the sky and saw the clouds parting with the sunlight streaming through, and we had the same reaction – JESUS IS COMING BACK! That's what the flannelgraph picture looked like, so this must be it!! We both remember trying to tell our parents as quickly as possible – Jesus is coming! – and being shut down with, "that's just how the sky looks sometimes." Oh, the utter disappointment!
We laugh about it now, but there is a reality behind that: are we expectantly waiting? I don't know if it will be in my lifetime, but it could also be today! Do we long for His appearing? Oh, to see Jesus face to face! To be in His presence! To fall at His feet in worship and gratitude! It's all about Him, friends. And someday, I pray soon, it will happen. Believe Him.
Maranatha!
Come, Lord Jesus!
"Now the dwelling of God is with men, and he will live with them. They will be his people, and God himself will be with them and be their God. He will wipe every tear from their eyes. There will be no more death or mourning or crying or pain, for the old order of things has passed away."
(Revelation 21:3-4)